#1 Best Seller! As Seen On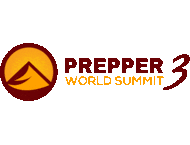 And see the video clips below!
Sign up for Secret Garden News!
Secret Garden of Survival Book!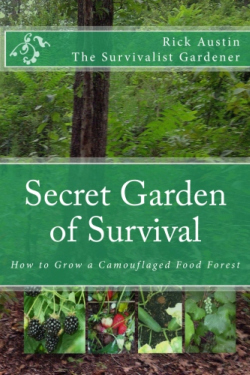 Secret Greenhouse of Survival!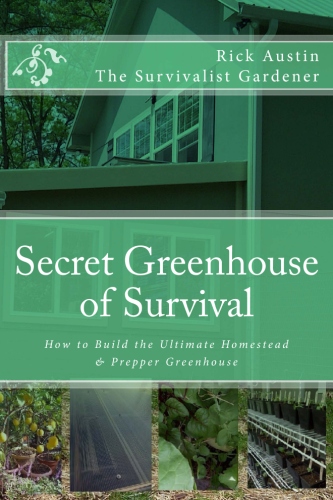 Secret Livestock of Survival!
Reader Reviews of the Book!
Read the book reviews to find out what other people think!
 See the book reviews at Amazon.com: click here.
 See the book review at SurvivorJane.com click here.
Or read the comments of people just like you who bought the book here!
Sir,
It was a pleasure meeting you at the Charlotte PrepCon and I greatly enjoyed your presentation on Permaculture.  I got the book.  Looks great. Thanks!
I am retiring soon and look to have a small sustainable farm of my own and I would love to put your techniques into practice.
Jeff


Rick,
       Just had your class on the secret garden. Awesome! This is something I personally have wanted to do when my wife and I finally get a piece if property. You have done the leg work of my dream. Thank you. Now I have a direction to go and hope in the very near future to start bringing this dream to reality. Please send me your newsletter and any guidance you can. Thank you again and God bless.
John
Please add me to your email list  – Secret Garden is the only practical guide I found in 4yrs  of searching – TNX!
Carl W. [90yr old]
I attended your seminar at Carolina Readiness in Waynesville.
I filmed with National Geographic on my 50 acres in SC for the grand finale of Doomsday Preppers. I would like to seek your advice.
Brent 
I was at the Waynesboro meeting last summer and enjoyed your presentation.  I am now prepping for my garden.  I would like to order the book asap!
Thanks and God Bless
Richard
Hello, was wondering if you had the new book out yet. Have heard you
at the 3rd PrepCon. How do I order it?
                                                      Thanks Gene
Hey Rick
My name is Adrienne, and I was at the Homesteading Skills event in Haywood county, NC last year. 
(Brown haired lady, that happened to be probably one of the youngest adults there : )  I wish more young people would come to their senses, and learn about this stuff.
Just went ahead and purchased your book, and have to begin reading.  I am looking forward to apply these principles, as I just purchased 1.6 acres of old field. I did plant 11 fruit/nut trees and am looking to make it look "scrubby" with other suggestions you have.  Now in the process of digging holes for my white pine natural screen, will top em off so they don't impede my fruit tree's sun supply…
Thanks for all your effort with the book and lectures,
Adrienne
On Chapter  4 of the book …and your guidance already stopped me from burning my brush piles… to instead save for my berms~ whew!
Adrienne
Whoa Rick!
I am on chapter 9 and am really loving your book! 
The last permaculture book I ordered is about 2" thick and really scary…!
Your book makes so much sense, easy to read and understand, and pictures are very helpful! 
Now all I have to do is put all your awesome information into practice!!!
You ROCK!
MANY THANKS!!!
Connie
Hi- just bought your book & would like to subscribe to your newsletter – thanks, Julia
Question for Rick Austin
Hi Guys!
Because of his unique experience in both cold and hot climates, I would like to know which he prefers for prepping or what positives and negatives he sees with each.
Thanks!

Derek
Great Book!
Thanks!  We certainly will be implementing your ideas – with Gratitude!
We would like to receive your newsletter as advertised in your book!
Please add us to your list:
Thanks Again!
Being Patient for your next titles!
Be Well!
Marilyn -Kansas
Hi Rick,
Thank you for sending the book- so far it looks awesome!  I heard you on the "Doom & Bloom" show.
Debbie
Hello I met u in the seminar this Saturday, and I'm interested in your consulting service. I'm interested in your services. Please email me
Rosie
Sir I appreciate you being at the conference last Saturday …you seem like you're extremely busy so just wanted to thank you man. You are doing some good things so keep it going as you're able… Gardening was the first thing that I thought that I could do whenever prepping came to mind 4 years ago. I was wondering if you would mind telling me ..question: is there a day and a time that you would have availability to talk with me on the phone for 10 minutes. I just want to ask a few questions because it was so inspirational for me on Saturday. I know that you do consults but I'm not sure that I need that but, if it is necessary I can consider whatever the fee is. or if it is possible you could just give me a call randomly my phone is always on and with me.. hopefully. Take care , I really am thankful for being there and making your class. Tom
I would like to receive your Secret Garden of Survival Newsletter.
Thank you
Carolyn
Rick,
Thanks for sending out the book, I just got through reading. I am a
bit of a slow reader, good thing it was not too long or I would be
halfway through the next planting season before I got through it, LOL.
First off let me just say thank you for taking the time to
sit down and share your information with the rest of us.

I am a mechanical engineer by trade and tend to be pretty analytical
by nature. I tend to prefer reading instruction sets over idea blogs.
I thought the book was laid out well and to the point, Enough
information to get me going without getting me caught up in the weeds.
I also found the supplemental section on the duck pond, gray water
recycling, pest control and food storage sections to be helpful as
well.
William
I have enjoyed your book Secret Garden of Survival. I would like to receive your newsletter. Can you recommend a person or book to tell me plants that will do best in my area?
Thanks for all you do,
Terresa
Hello and greetings from Poland,
I have just finished reading your book, it is a very valuable resource for
me. I hope to create such food forest one day, just starting this year. I
would be grateful if you could sign me up for your newsletter.
Many thanks and best regards,
Wojciech
The Secret Garden of Survival(TM) and The Survivalist Gardener(TM), and the Survivalist Gardener avatar all are trademarks of Rick Austin.
This website and all it's contents are Copyright (C) 2012, Rick Austin, All Rights Reserved.